Probiotics are a polular product used by millions and big business, too. These products promise improved health, but at the same time don't make health claims. I have a real problem with these products, because the cost my patients money but I don't see them gettting benefit.
A major problem I see is that since they come in pill form people imagine they are like medical pills. However, each brand has different bacteria or groups of bacteria. We don't know if probiotics work due to the surface structures on the germs or if there are metabolites that bacteria make that affect health, so it isn't relly even known if the probiotics need to be alive or dead.
Another major problem is you don't know what you're getting even from time to time that you get a probiotic. It's been known that in the growing of bacteria the bacteria can change over time. An article in by Claudio de Simone from the University of L 'Aquila published in Clinical Gastroenterology and Hepatology(1) is worth a read as it discusses a number of points regarding the problem of probiotics not being regulated.
The following snippet from the article is from figure 2 in the article. Phosphatidylglycerols are an important part of bacterial cell membranes and the ratios of these are characteristic of different types of bacteria. If two bacteria are the same their PG ratios will be the same. In this example a probiotic was analyzed that was sold in the US and Italy. As can be seen, the Italian version of the probiotic had a different PG content then the US version, even though thew were sold as the same product.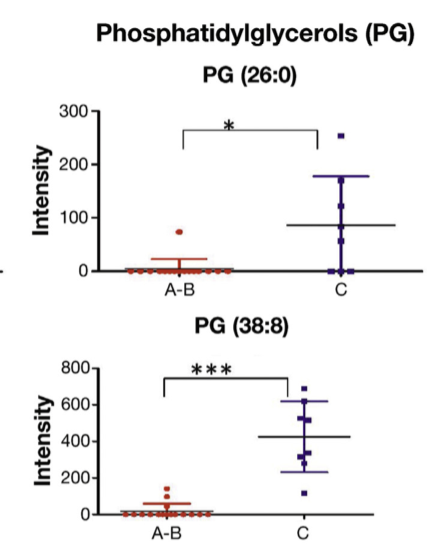 One has to conclude that these products have different bacteria in them. It is a concern that may probotic products have differing bacteial content from year to year or batch to batch.
Another important point is that with many IBD patients having leaky gut that these probiotics are introducing to new bacteria in patients who could have those bacteria wander across their intestinal surface into the tissues. Given that we don't have good safety data in IBD patients with this products and that the products also change what is in them over time I wouln't recommend these products to patients.
References
de Simone C1. The Unregulated Probiotic Market. Clin Gastroenterol Hepatol. 2019 Apr;17(5):809-817. PMID: 29378309.